August 29, 2014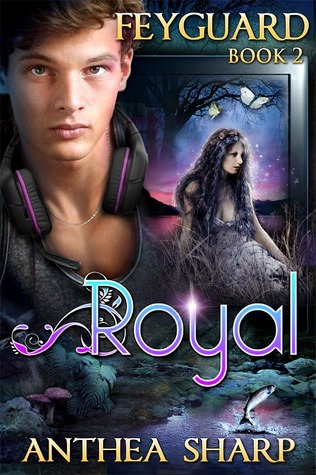 The adventures begun in the Feyland trilogy continue, where a high-tech computer game becomes a gateway to the treacherous Realm of Faerie. Rich-boy gamer Royal Lassiter lives on easy mode—until everything falls apart. Dark faeries are plotting to invade the mortal world, his controlling mom has turned home into enemy territory, and he can't deny his irresistible attraction to newcomer Brea, despite the danger lurking in her mysterious eyes. Forced to undertake a perilous mission for the Dark Queen of Faerie, Brea Cairgead finds living among humans and hiding her true nature as one of the fey folk a fearsome challenge—especially when her emotions prove all too vulnerable to a certain human boy. Torn between impossible loyalties, she must serve her queen… though it may cost her heart. Can love between mortal and fey ever have a happy ending? (From Goodreads.com)

Sissy: Anthea Sharp draws us back into the magical world of Feyland with another beautiful novel of romance and adventure. I dare you to look at the cover and not be drawn into the story.
Bubby: I am always so excited when a new Feyland book comes out! This one shows us a whole new side of Roy Lassiter, the boy we hate to like. He actually has some depth. Who knew?
Sissy: Anthea Sharp just keeps getting better and better! I do not hesitate to recommend that everyone read Royal: Feyguard Book 2.
Bubby: A great novel to help you pretend that it's still summer. Just what I needed.
Click HERE to buy Royal by Anthea Sharp at Amazon.com
We received a copy of Royal from the author in return for a fair and honest review.
© Bubble Bath Books 2014
March 20, 2013
The Woodcutter family has seven daughters, each named after a day of the week. The youngest, Sunday, has a hard time living up to the exploits of the other 6. Her only comfort is writing stories in her secret retreat down by the water – even though what she writes often comes true. One day she meets an enchanted frog who, unlike everyone else, is interested in her beloved stories. They become friends and soon Sunday's feelings turn to love.  One night she kisses him goodbye and goes home and true love's kiss turns Rumbold back into a man – who happens to be the prince of the land. Now Rumbold hopes to woo Sunday into loving him as a man, just as she loved him as a frog. But the path of love never runs smoothly and both the Woodcutters and the royal family have many secrets in their histories. Can Sunday and Rumbold overcome their pasts and the magic forces pitted against them and form a beautiful new future together?
Bubby: The part I like most in this book is that Alethea Kontis drew aspects from pretty much every fairytale ever. However, the part I liked least in this book is that the author drew aspects from pretty much every fairytale ever.  We have Jack and the Beanstalk, the enchanted dancing shoes, Cinderella, Sleeping Beauty and most importantly for this novel, the Frog Prince. It's all very well done but it gets a bit confusing. The biggest irritation for me is that the writing that Alethea Kontis does is so very good and I feel that there needs to be more of her and less of everyone else. I am excited to read something from her that is hers alone and has no borrowing.
Sissy:  In a rare and alternate universe sort of way, I agree with Bubby!  Alethea had so much going on here (she even says herself that this book came from a story writing challenge to use every possible fairytale reference) that I sometimes felt it took away genuine feeling from the characters and story.  I did love many of the references, especially the sister who ran away with the pirate king, but the sister who danced herself to death was too much.  And the poor mom suffered guilt and pain because of all the dumb fairy tale references that impacted her life.  I liked the main character, Sunday,and her friendship with the frog prince seemed genuine.
Bubby: How would it be to have 7 girls – and a few boys – with all the girls named after the days of the week? The depictions of each child are so rich and detailed – everyone has their own unique interests and abilities. For instance, Sunday's ability is that what she writes down has a tendency to come true. And when Sunday's mother speaks, people have to do what she says. I know that there are lots of bad karma-y things that come out of having special powers and such but I think that it would be worth it sometimes. Can you imagine? I say "Sissy! Buy me a fabulous lunch!" and lo and behold, she goes forth and procures me something yummy. Or "Disobedient teenage child! Clean the bathroom!" and poof – clean bathrooms! I am sure that I would only use this power for good and it should be granted unto me by my fairy godmother immediately.
Sissy:  If I could, I would grant you that power, although I would probably almost immediately regret it!  My favorite character in the book was Sunday's fairy foundling brother Twix–their relationship was delightful, and he was delightful!  Honestly, sometimes I got confused over which day of the week sister was who, and what fairytale we were referencing at any given moment.  It was weird how I liked finding new tales, but then I didn't.  The woodcutter dad was a great guy, and the fairy godmothers were well-depicted.  So I guess I am of two minds concerning this book.  It was a good, magical story, but sometimes confusing and disjointed.  Alethea Kontis has many moments of beautiful, prosaic writing, but other times, I felt a "clunk."
Bubby: I loved Twix as well. He was the perfect fairy – childlike, capricious and kind. He reminded me of my own dear younger brother who is so sweet and loving and funny that he's almost too good to be true.
Sissy:  What have you been smoking?  Or is there something that went on while I was away at college that I was never told about?  You are the youngest child, and none of your older brothers would appreciate being described as "sweet, loving, and funny."  They would say "grrr" and hit you with a pair of deer antlers.
Bubby: Well, I DID say he was too good to be true. Oh, well. I enjoyed the "Wizard of Oz" -esque relationship between the two fairy godmothers; one good and one evil. Interesting how sisters are often portrayed that way in fairy tales. Hmm . . .
Sissy:  When in reality sisters are usually a mix of good and evil, except in our case, where good prevails, mostly.  So, all in all, this book was good, in a weird way, but still good. I want to see more of Alethea Kontis' writing.  I give it 3 wands, no, golden balls, no, dancing slippers, no, magic beans, no, pumpkins, no…BUBBLES.
Bubby: I really enjoyed most parts of Enchanted. The basic storyline was great, the characterizations were really well done and there was magic and princes and beautiful ball gowns. I give it 3 ½ bubbles and I am definitely going to read the sequel, Hero, which comes out soon.
Click HERE to buy Enchanted by Alethea Kontis at BookDepository.com
Click HERE to buy Enchanted by Alethea Kontis at Amazon.com
© Bubble Bath Books 2013
October 12, 2012
Three years ago, Sophie Mercer discovered that she was a witch, the daughter of a non-gifted mother and a warlock.  When she casts a spell at her high school prom and it goes horribly wrong , her father decides she will be punished by being exiled to Hex Hall, an isolated reform school for wayward Prodigium, a.k.a. witches, faeries, and shapeshifters. It just goes downhill from there for Sophie. By the end of her first day at Hex Hall she has made three powerful enemies, developed a crush on a hot warlock named Archer, and been assigned to a roommate who just happens to be the only vampire in the whole school. Just when Sophie thinks it can't possibly get worse, she learns that someone, or something, has been attacking students and her new roommate is believed to be the culprit. As Sophie delves deeper into the mystery she uncovers the deadliest secret of all: an ancient society determined to destroy all Prodigium, especially her.
Sissy: I had a love/hate relationship with this book and the subsequent two books in the series. It was one of those things where I HAD to know what happened and therefore had to buy the sequels but at times getting to the resolution made me feel fidgety and teeth-grindy.
Bubby: Pretty sure I bought all three of these and shared, but that's not the point.
Sissy: Whatever. You know what I mean.  I liked this author's magical spin on diversity, and I liked the various twists and turns that kept things fairly interesting.  The descriptions of Hex Hall and its matron were vivid and gave me anxiety, but in a good way.  Plus there were some new and creepy paranormal beings introduced that could give me nightmares if I were an overly emotional person like Bubby.
Bubby: Not even going to respond to that attack on my character. (I am tender hearted, that's all!) I did think that there was an overdose of teenage angst. I tend to lose patience quickly with kickbutt girl characters that agonize over whether or not the hunky boy really likes them. On the other hand, I probably would have reacted the same way that Sophie did had I been in her situation. Cute boys still make me swoon!
Sissy: The teenage angst helps with the character development and story line, but sometimes I just want to tell them characters to shut up and own their "ness."  I was conflicted about Archer and  the mysterious Groundskeeper boy.  I couldn't decide which one I thought Sophie should love, or who looked more like Zac Efron and who looked more like Chris Hemsworth in my mind.
Bubby: Own their own "ness"? I think I need to buy you a dictionary for Christmas. You keep making up words!  Yes, there was too much emphasis on teenage romance issues. But I liked both boys too and overall it was a great book and a great series. It kept me interested all the way through and I can't wait to read more by this author. 3 3/4 bubbles from me.
Sissy: I did like them. I did read them. I do recommend them. But, if there was a new episode of "Downton Abbey", I would have watched that instead.  2 1/2 bubbles.
© Bubble Bath Books 2012