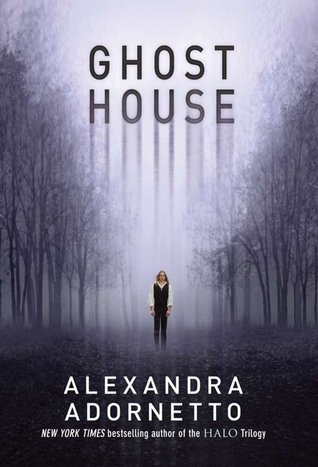 After the loss of her mother, Chloe Kennedy starts seeing the ghosts that haunted her as a young girl again. Spending time at her grandmother's country estate in the south of England is her chance to get away from her grief and the spirits that haunt her. Until she meets a mysterious stranger…
Alexander Reade is 157 years dead, with secrets darker than the lake surrounding Grange Hall and a lifelike presence that draws Chloe more strongly than any ghost before. But the bond between them awakens the vengeful spirit of Alexander's past love, Isobel. And she will stop at nothing to destroy anyone who threatens to take him from her. (From Goodreads.com)
Bubby: Sissy read this book first and warned me to not read it at night, as I would have nightmares and not be able to sleep. I, of course, scoffed at her because I am a strong and powerful woman and nothing scares me! So I went ahead and read it one night while my husband was at work late. The kids were all asleep in their beds (none of which are on the same floor of our house as my bedroom, by the way) and I was all alone. And about 15 minutes in I was terrified out of my mind. It was all I could do to force myself to open up my bedroom closet the next morning for fear that a psychotic ghost would be waiting inside. I should have listened to Sissy!
Sissy: Let's see–"I should have listened to Sissy"—Ding, ding, ding!  That should be the mantra for your life (everyone's life, really, except it would read "I WILL listen to Sissy.").  Also, the part where you said "nothing scares me" is, of course, a complete lie.  Readers:  Bubby is a first class scaredy cat.  In the case of Ghost House by Alexandra Adornetto, however, the fear is well justified.  I also read this book alone at night (well, everyone was asleep but me).  I went to bed (translation:  ran terrified to my bedroom) only to find my dear hubby snoring loudly.  Normally I would have gone down to the guest bedroom to escape the snores, but I was so petrified by the thought of Isobel the creepstash swamp-thing jumping out at me from anywhere en route or in the guest room closet that I simply attached myself to the ghost conquering snorer and lay awake but safe.  Let me add, lest you get the wrong idea, that I really liked this book.  It was full of drama, excitement, romance, and enough ghostly encounters to scare the holy pantalones off me.  Just look at the cover–it's like Heathcliff meets 21st century teenage medium.
Bubby: We should make it clear here that these are your standard "made bad decisions in life and can't let go" ghosts, not "evil spawn of Satan" ghosts. We don't do them Satanic sorts of things – I mean, there's scary and there's afraid for your immortal soul scary. We don't go there. Anyway, my favorite part of Ghost House has to be the ending. Alexandra Adornetto wraps up the story so nicely – all the loose ends are tucked away neatly and everything's back to normal. And then, in the very last two sentences of the book, BOOM! Massive cliffhanger. Yup. I literally dropped my Kindle on the floor and yelled "What the heck?!?". I did. You can ask my kids. And the worst part? Ghost House was just barely published. So now I have to wait to find out what on earth is going to happen next. Well played, Alexandra Adornetto. Well played. 4 absolutely flesh-crawling bubbles of creepy from me.
Sissy: There are many characters in this story that we haven't mentioned; Chloe's dad who sends her and her brother Rory away because he can't handle parenting after the death of his wife, the aforementioned Rory, who I wonder how he gets through all this without psychological problems of his own, Granny Fee, who owns "Ghost House", and Joe, Chloe's sympathetic English friend. All in all, a terribly  enjoyable read. For daylight only! 3.75 ghostly orbs.
Click HERE to buy Ghost House by Alexandra Adornetto at Amazon.com
© Bubble Bath Books 2014
Posted by bubblebathbooks in By Author, By Title, Reviews Tags: Alexandra Adornetto, England, ghosts, Young Adult Paranormal, Young Adult Romance